Bottom Line
So, you've suffered a disc herniation, and it's causing severe pain. Do you need an injection or surgery? What type of doctor should you see? Can a Chiropractor make it…worse? These are all common thoughts that may race through your mind after you've experienced a spinal injury. First, take a deep breath and relax. Leading research journals have shown that you made a smart decision by choosing Chiropractic care. Many leading health organizations are now recommending Chiropractic as a top choice to find relief from disc herniations. To learn why keep reading…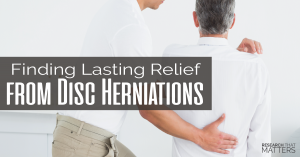 Why it Matters
Studies have shown that over 90% of people with a lumbar disc herniation that were treated with spinal adjustments improved within 3 months, and 88% improved within 1 year.  Perhaps even more impressive was another study, which indicated that, for disc herniations in the neck, 86% of people found relief with Chiropractic adjustments compared with less the 50% of people who underwent a spinal injection. We continue to learn that, most of the time, the benefits of medications, injections, and surgery just don't outweigh the risks.
–       Top healthcare organizations recommend taking a conservative approach to care, such as Chiropractic. Medications, injections, and surgery should only be used as a last resort.
–       In a recent study, researchers found that over 90% of patients with a lumbar disc herniation improved within the first 3 months of receiving Chiropractic adjustments.
–       Over 35% more people with cervical disc herniations found relief with Chiropractic adjustments than with spinal injections.
Next Steps
Discovering the most up-to-date Research That Matters is part of our practice. We focus on using this research and combining it with our clinical expertise and experience to provide you with the best care possible. So, if you are suffering from a disc injury, please know that you're in the right place, and we are grateful you have trusted us with your recovery.
If you know someone who would benefit from this information, share it with them today. When you're ready, give us a call at 705-722-3131 or use our "contact us" form.
Dr. Michael Miller, DC, DOMP Chiropractor & Manual Osteopath Complete Care Chiropractic
Science Source
Outcomes of acute and chronic patients with magnetic resonance imaging-confirmed symptomatic lumbar disc herniations receiving high-velocity, low-amplitude, spinal manipulative therapy: a prospective observational cohort study with one-year follow-up.
Symptomatic, Magnetic Resonance Imaging-Confirmed Cervical Disk Herniation Patients: A Comparative-Effectiveness Prospective Observational Study of 2 Age- and Sex-Matched Cohorts Treated With Either Imaging-Guided Indirect Cervical Nerve Root Injections or Spinal Manipulative Therapy.