Chiropractic Care in Barrie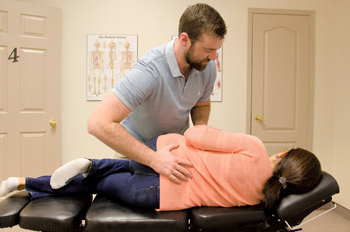 Chiropractic is a drug-free, hands-on health care discipline that focuses on the diagnosis, treatment and prevention of musculoskeletal disorders. Particular attention is directed toward the spine, but extremities such as the shoulders, hips and knees also benefit from chiropractic care.
When the joints in the spine or extremities become dysfunctional, they put extra stress on surrounding nerves, muscles, tendons, ligaments and joints resulting in abnormal movement and pain. Chiropractic care helps correct these joint dysfunctions and restores normal movement, ultimately reducing pain.
At Complete Care Chiropractic, our Barrie Chiropractors utilize a variety of well-researched manipulative therapy techniques including: Diversified Manual Adjustments (the traditional adjustment), Drop Table Assisted Adjustments (uses the mechanical advantage of the chiropractic table) and Instrument Based Adjustments (using a controlled spring loaded handheld activator or impulse gun). Often times multiple adjustments styles are used to obtain best results. A variety of modalities including myofascial release therapy, trigger point therapy, proprioceptive neuromuscular facilitation, cupping, IFC, TENS, ultrasound, medical acupuncture and exercise prescription are also integrated into care.
Conditions That Respond Well To Chiropractic Care
Tension Headaches
Migraine Headaches
TMJ/Jaw Pain
Neck Pain
Whiplash
Shoulder Pain
Mid Back Pain
Rib Pain
Low Back Pain
Disc Herniations
Sacroiliac Pain
Sciatica
Joint Sprains
Muscle Strains
Tendonitis
Arthritis
Overuse injuries
Chronic Pain
To find out how you can benefit from chiropractic care, contact us today.
CONTACT US »

Chiropractic Care | (705) 722-3131