Experienced Family Chiropractor in Barrie
Discover Pain Relief At Complete Care Chiropractic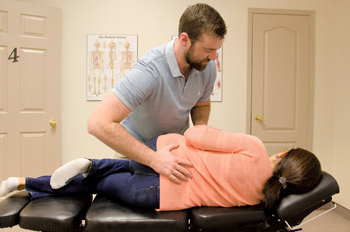 Since 2014, Dr. Michael Miller has been passionate about helping families achieve pain relief and optimal wellness through advanced chiropractic and manual osteopathy.
Being double-registered in chiropractic and osteopathy allows Dr. Mike to provide his patients with a blending of the best that these healing arts offer, resulting in positive outcomes and satisfied patients.
It's our mission to bring you the latest in treatment excellence.
Whether you are looking to get out of pain quickly or just maximize wellness, our evidence based and patient centred approach can make a difference.
Call us at (705) 722-3131 to book your consultation now!

Personalized Chiropractic Care To Fit You
Our patients appreciate the fact that our techniques are as gentle as our attitudes. We never force our patients to submit to long-term contracts, and we're respectful of your feelings.
We're a no-pressure, judgement-free zone. We always let our patients know that they can enjoy their chiropractic care for as long as they feel they're receiving benefit.
Call us at (705) 722-3131 or book an appointment online to schedule your an appointment now!
Conditions
Chiropractic Care Treats
Back Pain
Hip Pain
Neck Pain
Shoulder Pain
Headaches & Migraines
Plantar Fasciitis
Piriformis Syndrome
Vertigo
Arthritis
Degenerative Joint Issues
Disc Problems
Avoiding Back Or Neck Surgery

Experience Personalized Chiropractic Care For Yourself
Call Us Today! (705) 722-3131

Experienced Family Chiropractor Serving Barrie And Surrounding Areas